Connection is our biggest commodity
Drawing on First Nations wisdom to prepare the next generation for school.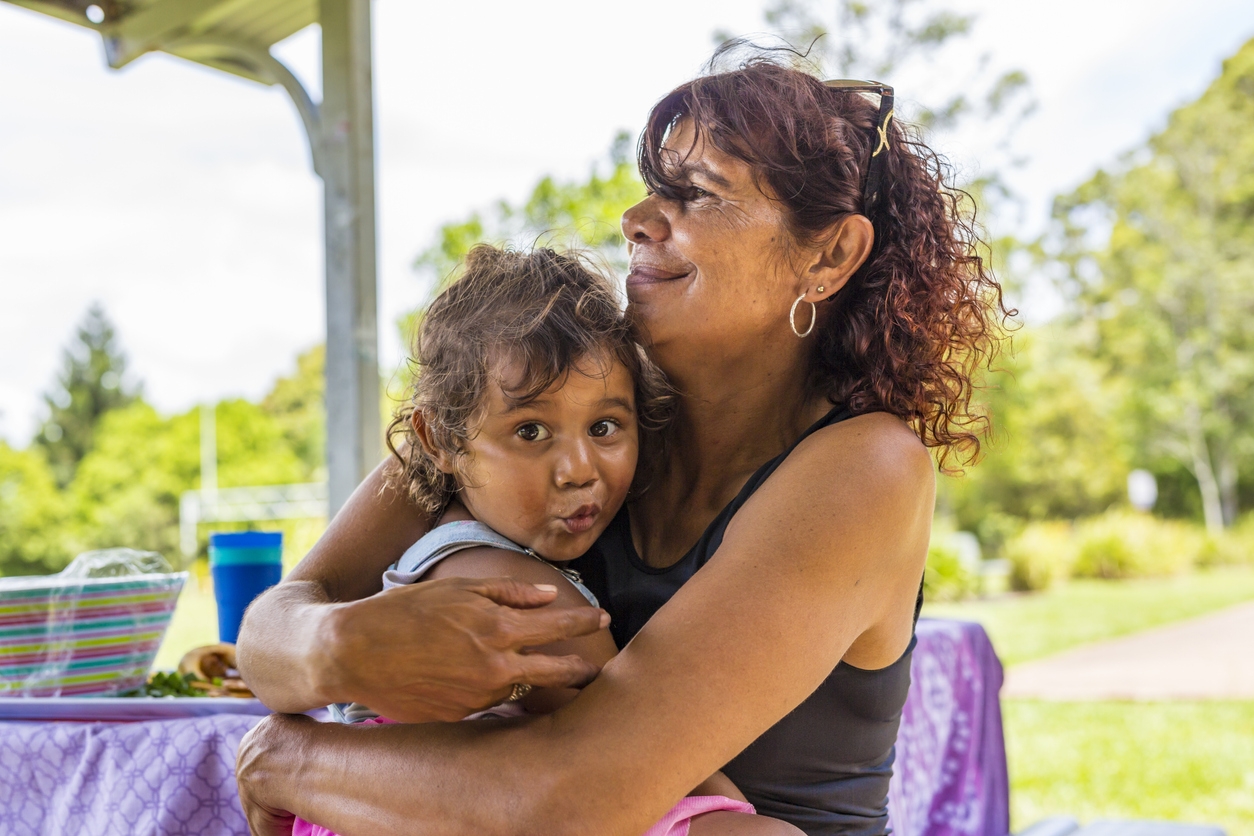 In partnership with the Institute for Urban Indigenous Health (IUIH), Brisbane North PHN provides ongoing funding for access to speech pathology (SP) and occupational therapy (OT) (SPOT) services in two kindergartens in our region. K-PLUS is both a workforce development and school readiness program that provides support for First Nations children and their families as they navigate the transition from kindergarten to prep.
The introduction of the K-PLUS Tertiary Student-Led SPOT Kindergarten Program in 2022 saw a significant shift in the delivery of IUIH's SPOT services in kindergartens (kindy).
This year K-PLUS was delivered in our region at C&K Caboolture Community Kindergarten and Preschool and Koobara Aboriginal and Torres Strait Islander Kindergarten and Preschool by pairs of university students in their third and fourth years of Speech Pathology and Occupational Therapy degrees, under the supervision of an IUIH Speech Pathologist (SP) and Occupational Therapist (OT).
The new model seeks to enhance both service provision and experience – supporting children in building the appropriate developmental skills needed to graduate into prep, while also building the capability and experience of future allied health practitioners in working with Aboriginal and Torres Strait Islander children.
The goal is for university students to work with children, their teachers and their families to support the development of children's skills and school readiness across the areas of self-regulation, social and emotional wellbeing, fine and gross motor skills, play, self-care, yarning and conversation, speech and language, and early literacy.
"The Way is a journey of understanding, requiring constant self-reflection and humility when working with Aboriginal and Torres Strait Islander families."
The program adopts relational and yarning aspects of IUIH's Ways Statement andCultural Integrity Framework to foster the connections necessary to achieve this. The Ways refers to Aboriginal terms of reference which prioritise the embedding of Aboriginal and Torres Strait Islander perspectives and ways of knowing, being, doing, seeing and belonging into a client-focused model of care.
"The Ways Statement synthesises wisdom shared across many generations, disciplines, frameworks, theories, and gave me a lens to help guide making critical decisions which shape people lives."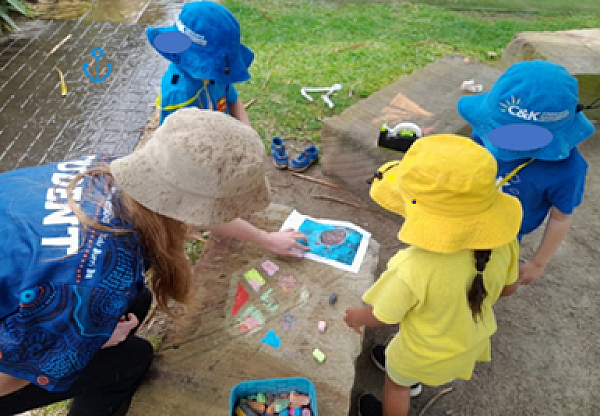 As part of the program, children who are eligible to transition to prep are screened using the IUIH Deadly Ways Screener – a screening tool aligned to the IUIH Ways Statement and Early Years Framework. Using intentional observation and yarning, the tool is used to recognise and celebrate a child's learning in a way that identifies their strengths, interests, unique ways of learning and related individual learning needs.

Each child's culture and identity is considered as part of this screening, with a central focus placed on the child's sense of belonging and connection to their peers, friends, teachers, community and Country.
In doing so, the student SP and OTs are empowered to practice culturally safe and responsive interventions in group and individual settings to support the children to develop, explore, play, connect and grow.
"Creating vast and incredible opportunities to provide meaningful intervention."
Where screening and observation indicates that a child may benefit from additional therapeutic support or assessment, they are connected to appropriate clinical, community or NDIS services to help ensure a more positive and well-supported transition into prep.
This support is offered in various ways that seek to enhance the connectedness of families to the health system and foster more positive therapeutic outcomes:
yarning with a child's family about their home and history, any concerns, setting goals, and checking in on their collective mental health
sharing information about referral pathways and providing the support needed to make contact or an application
coordinating and following up on at home visits or appointments with providers.
"Yarning is essential for building strong connections with the children, their families and the kindergarten's teachers… and foundational in providing holistic client and family-centred care."
Nicole* and Raymond*'s story
Nicole* had been diagnosed with Autism Spectrum Disorder Level III and referred to IUIH's NDIS access service. Last year Nicole's father, Raymond*, found himself as her primary caregiver after the passing of Nicole's mother. Keeping up with work commitments while grieving this loss meant that Raymond was unable to make initial contact with the NDIS team or take Nicole to the SPOT assessments that had been arranged for her.
With the support of the K-PLUS OTs at Nicole's kindergarten and Aboriginal Health Workers at Northgate ATSICHS, plans were made to ensure that Nicole could be seen at a clinic where Raymond already had strong connections and support. Raymond was also provided with ongoing assistance linking with appropriate providers, receiving appointment alerts and information, completing paperwork, and finding answers to his questions.
In the kindy setting, SPOTs worked with Nicole and her teachers on co-regulation strategies for when she experiences heightened emotions. Nicole is now notably calmer – and while she may still experience instances of dysregulation, all involved now have the tools and a new sense of confidence in supporting her to self-soothe.
"Sharing something of yourself and being open to yarn helps to build strong connections with clients, peers, teachers and students."
Quotes from this article were provided by students from the K-PLUS Tertiary Student Led SPOT Kindergarten Program, who helped to deliver the described school readiness interventions in kindergartens.

*Pseudonym used.